Cosmetic Dentistry & Enhancements
Cosmetic Dentistry
Your smile is one of your most important features. Dentistry is continually evolving, and with a variety of advanced treatment options, achieving a beautiful, healthy, aesthetic smile is made easy for patients of all ages.
Are you ready for a smile makeover?
If you're considering cosmetic dental treatment, ask yourself a few simple questions:
Do you hesitate when you smile?
Would you like to increase your self-confidence?
Do you want to look your best in social or professional situations?
Are you ready to reverse any dental imperfections you may have?
If you've answered yes to any of these questions, cosmetic dentistry may be the answer you've been looking for!
Cosmetic Dentistry is an Art and a Science
Let us help you achieve your smile goals! Cosmetic dentistry is different from general dental care; it is both an art and science. By providing cosmetic dental care, your dentist is able to offer smile enhancement, restoration, and maintenance treatments for optimal dental health. Using cutting-edge techniques and advanced materials, our office proudly offers you a beautiful, natural smile and all the benefits that come with it.
Feel more confident about your appearance with a new smile that is as beautiful as it is healthy. You no longer have to suffer from missing, chipped, discolored, or crooked teeth. Contact our practice today and schedule your smile makeover!
Cosmetic Enhancements
When we think of cosmetic surgery, we tend to focus on the cheeks, eyes, and nose. But there are some appearance enhancements that a cosmetic surgeon can't make: those having to do with your teeth. As more people look to improve their appearance through surgery, cosmetic dentistry and periodontology are experiencing a rise in popularity. In fact, a poll conducted by the American Academy of Periodontology found that smile enhancement procedures outnumbered eyelid surgeries five to one.
The American Academy of Cosmetic Dentistry cites a recent study in which participants were shown photos of people before and after smile-enhancing treatment. The people with improved smiles were rated not just as more attractive, but also more popular, sensitive, successful, and friendly.
If you're interested in improving your smile, we can help in a variety of areas. Following are some of the most common corrections we perform for our patients.
Gummy or Crooked Smile
If you have too much gum showing when you smile, causing your teeth to look short, we call this a gummy smile. If your gum line is uneven, causing some teeth to look shorter than others, we call this a crooked smile. Both situations are easily remedied with a procedure referred to as a gum lift or crown lengthening. During this procedure, we remove excess gum tissue and reshape the contour of your gums to lengthen the crowns of your teeth and provide a natural-looking gum line.
Exposed Roots
Gum recession can be caused by gum disease, vigorous brushing, grinding or clenching, or simply age and genetics. Regardless of the cause, as gums recede they expose the roots of the tooth, creating the appearance of longer teeth. Exposed roots also increase vulnerability to root decay, bone loss, and sensitivity to hot and cold liquids and foods. The solution to this situation is a soft-tissue graft, also known as a gum graft. During this procedure, tissue from the top of your mouth or another source is transplanted to the gum area, covering the roots and restoring the gum line to its original, healthy location. A soft-tissue graft protects your roots from decay and helps prevent additional gum recession.
Missing Teeth
Aside from creating distracting gaps in your smile, missing teeth can cause problems with your oral health. To restore your smile to fullness and health, we use implants. An implant is a replacement tooth attached to a synthetic root that is surgically placed into the jawbone. Permanent implant crowns look and feel like natural teeth. Implants can last a lifetime if cared for properly.
Gum Indentations
When a tooth falls out or is removed, an indentation can appear in the gums and jawbone just above the spot where the tooth used to be. This occurs because the jawbone slowly atrophies or disappears in response to the empty space. In combination with replacing your missing tooth, we can provide ridge augmentation, a procedure in which we smooth out the indentation to recreate the original curvature of your gums and jaw. This procedure generally includes bone grafting to restore the missing bone, and in some cases must be performed prior to the placement of implants to ensure that sufficient bone is available to securely retain the implant.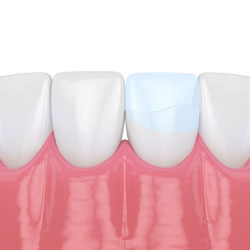 Bonding
Bonding is a conservative way to repair slightly chipped, discolored, or crooked teeth. During dental bonding, a white filling is placed onto your tooth to improve its appearance. The filling "bonds" with your teeth, and because it comes in a variety of tooth-colored shades, it closely matches the appearance of your natural teeth.
Tooth bonding can also be used for teeth fillings instead of amalgam fillings. Many patients prefer bonded fillings because the white color is much less noticeable than the silver amalgam fillings. Bonding fillings can be used on front and back teeth depending on the location and extent of tooth decay.
Bonding is less expensive than other cosmetic treatments and usually can be completed in one visit to our office. However, bonding can stain and is easier to break than other cosmetic treatments such as porcelain veneers. If it does break or chip, tell your doctor. The bonding generally can be easily patched or repaired in one visit.
Teeth Whitening
There are many products and techniques available for patients who want to achieve a brighter smile, and with so many options available, it can be difficult to choose the method that is right for you. The best way to begin any teeth-whitening regimen is to schedule an appointment and talk to your doctor about the differences between in-office professional whitening and at-home whitening.
At-Home Teeth Whitening
Tray bleaching is a type of professional whitening that uses custom-made trays and whitening gel only available through your dentist. The whitening gel is placed in custom-fitted trays that fit perfectly over your teeth. As the peroxide in the gel breaks down, hydroxyradicals help whiten stained teeth. Unlike strips, this process whitens all your natural teeth and may contain ingredients intended to provide maximum comfort. At-home professional tray whitening generally takes ten to 14 days, although you may notice results in as little as three to five days.​
Teeth-whitening strips are thin, flexible plastic (polyethylene) strips with a thin film of hydrogen peroxide on one side. Whitening strip kits come with two types of strips: strips for the upper teeth and strips for the lower teeth. The whitening agent is applied by placing the strips across your teeth and gently pressing the strips to ensure contact with all your teeth. Teeth-whitening strips are typically worn for 30 minutes a day, twice a day. The duration of treatment will vary.
Whitening Toothpaste and Mouthwash
The least expensive options are whitening toothpastes and mouthwashes. Designed to have "whitening" capabilities, toothpastes and mouthwashes work to remove surface stains using mild abrasives. However, unlike the materials used in professional whitening procedures, these products do not lighten the actual color shade of the tooth. Whitening toothpastes affect surface stains and will mildly lighten your teeth.
If you would like to learn more about teeth whitening, please contact our practice to schedule an appointment.